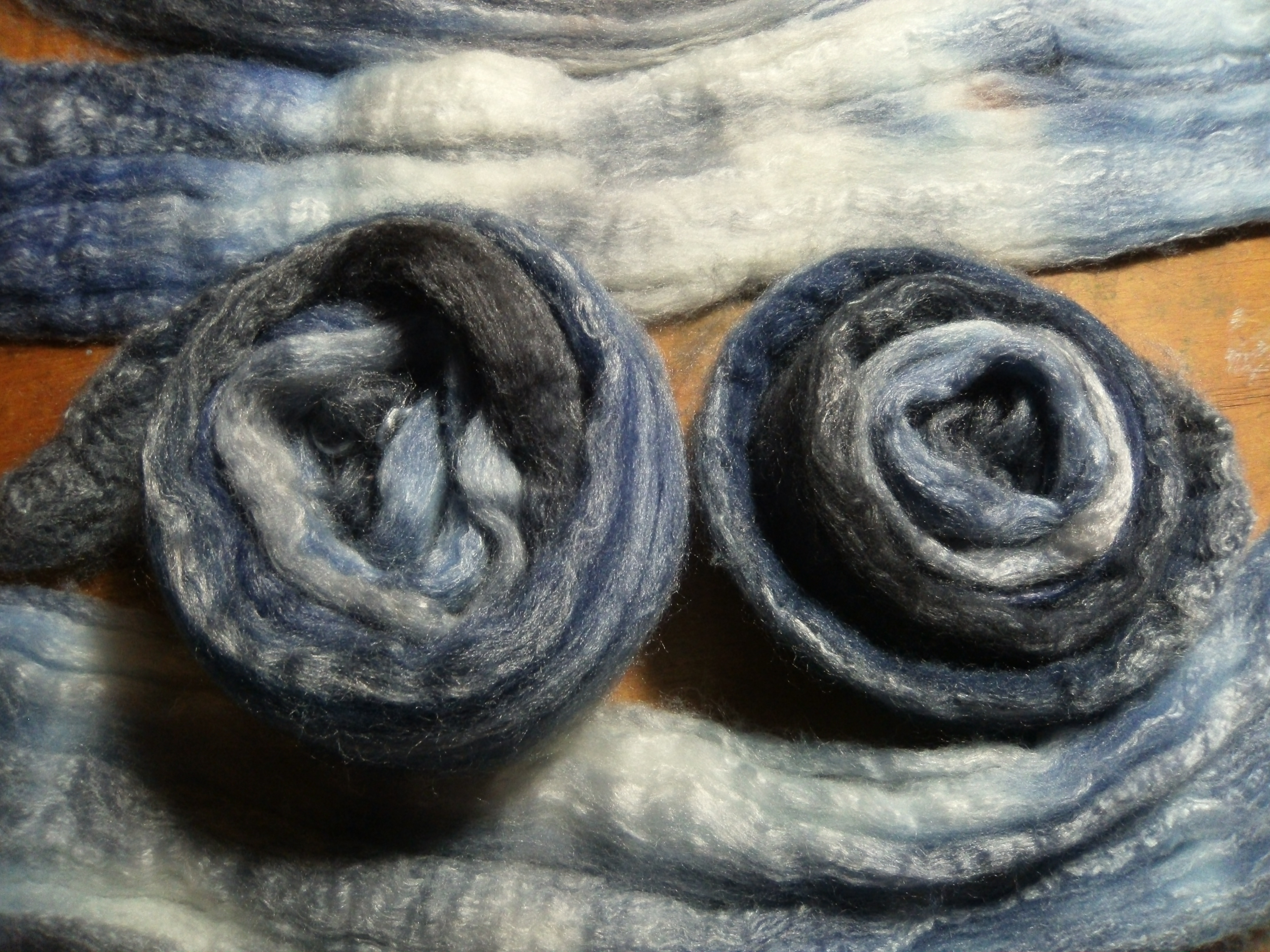 January Bam Huey 2017 Year of Color Fiber Club shipments have been sent out.  All January members should have their fiber in hand by now, unless you are in an area with weather issues delaying delivery.
The colorway each month is based on the colorway I develop for my monthly contribution to The Spinning Box.  Each month has a theme and January's is Haute Couture.   High Fashion isn't something I give a whole lot of thought to, so this theme required a bit of research for me.  I started with looking at the hot colors for the coming year.  A blue/grey caught my eye. I'm a country girl  and my first thoughts when it comes to blue/grey is faded blue jeans.  Blue Jeans are always in fashion, and about as high fashion as I ever get, thus what better name for January's colorway than "Forever in Blue Jeans".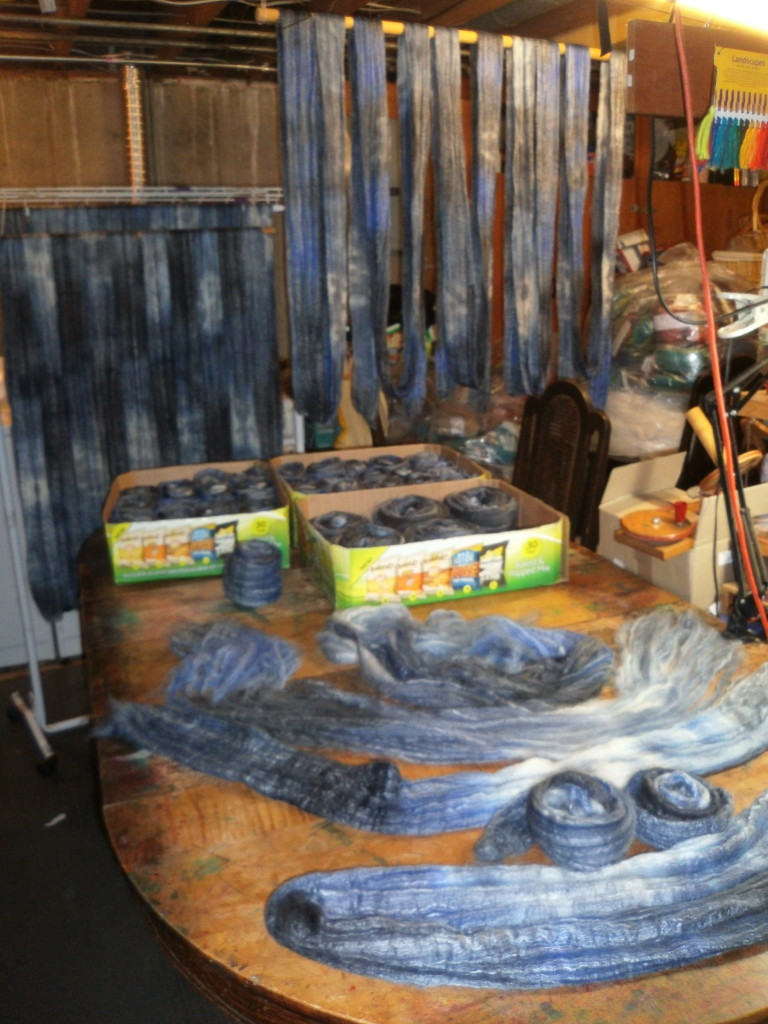 I wanted to use a stripe and bleeding dye method for January and this blue/grey color works great for this method.  I broke it down into 2 color groups, blue and grey.  I chose 3 blues and 3 greys and did alternating stripes.  Each color is then bled into the next creating shades of blue/grey.  To see the color repeats on your fiber, unroll the fiber and fold into thirds length wise.  This is demonstrated on the video this month.
I spun Forever in Blue Jeans 4 different ways using 1 oz for each sample. First off I spun from one end to the other, spinning across the top.  I then Navajo Plied  the single.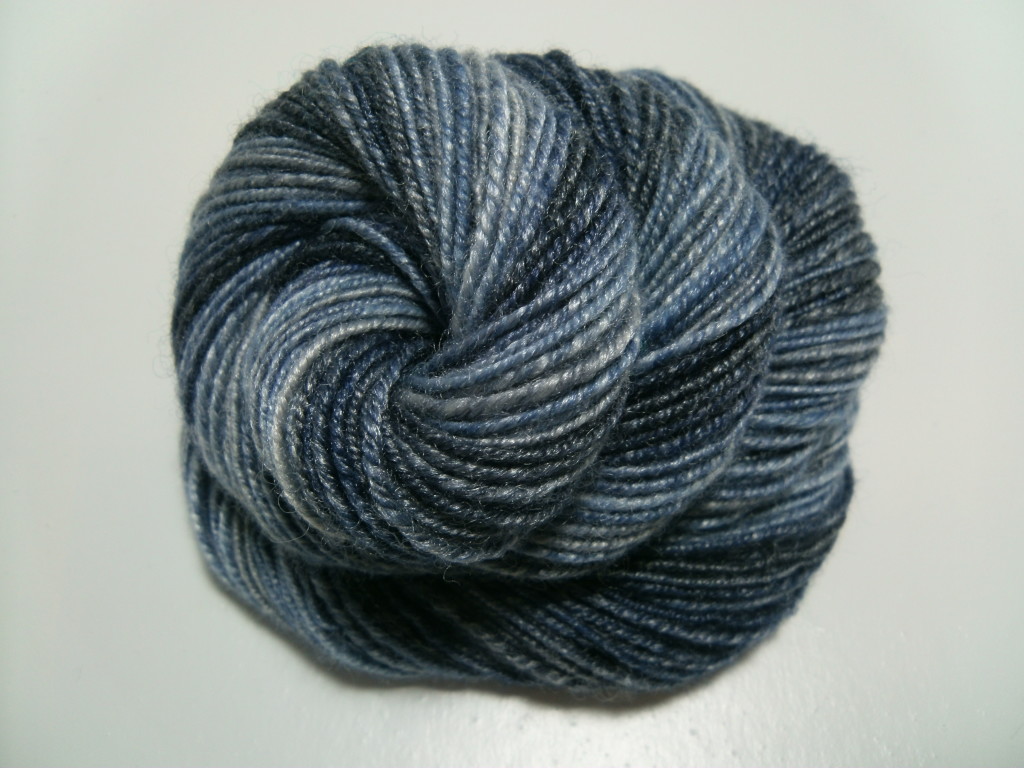 The 3ply/chain of the Navajo makes a round yarn.  I did this in a high twist lace of about 18 wpi.  In the knit sample you can see how this ply keeps the colors together.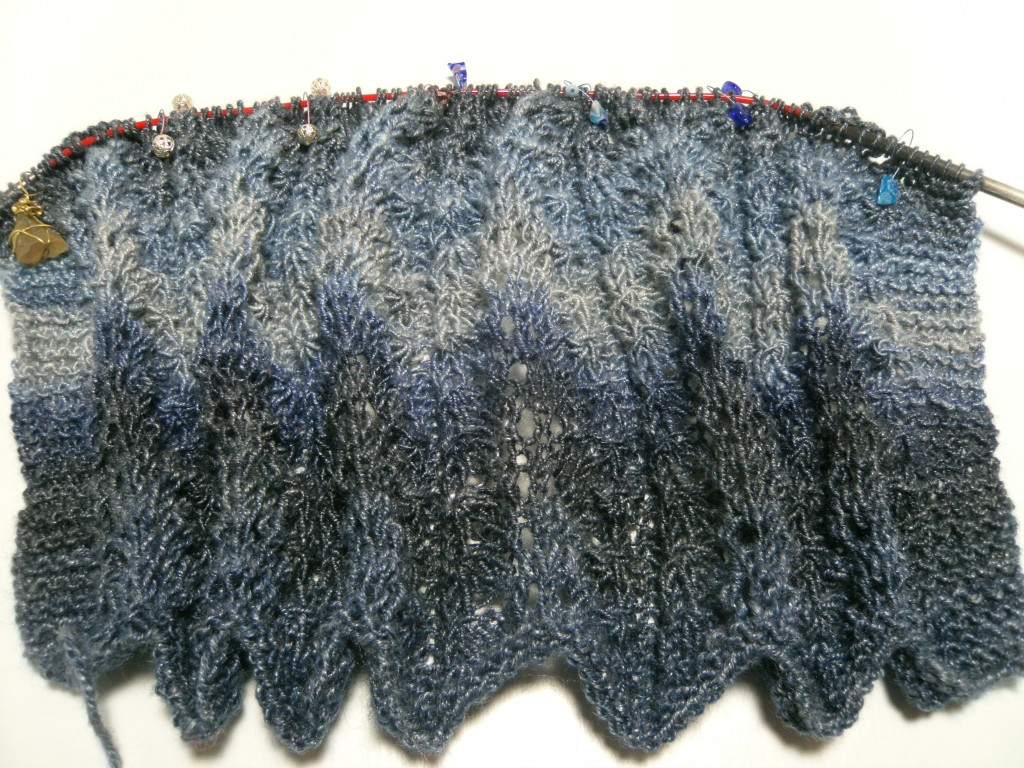 My second oz of fiber I split the top length wise, spun each half on a separate bobbin then plied together.  The colors are mostly kept together, with some barber-polling at the color changes.  The knit sample shows the gradual color change of this fingering weight yarn on the top half of the Boot Toppers.  The bottom half is done with the 3rd spinning sample.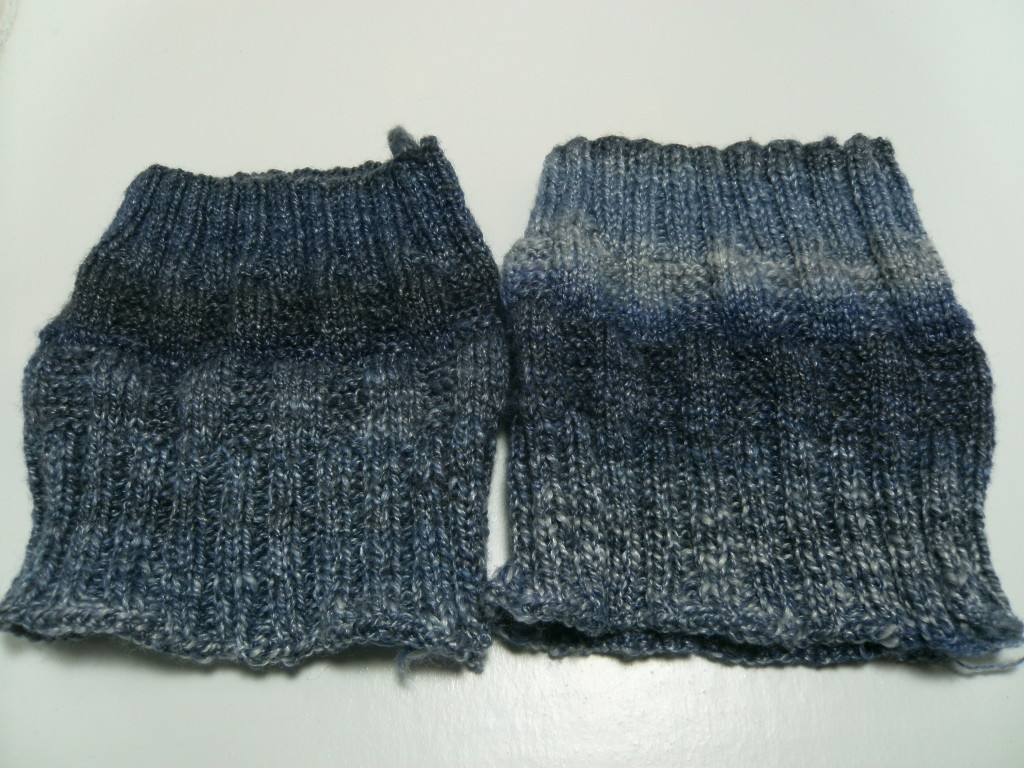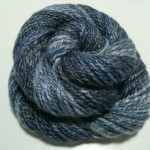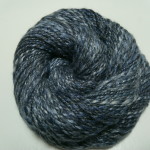 The 3rd oz of fiber I split in half, width wise giving me a light half and a dark half.  Spun each half on it's own bobbin, then plied together.  This is a very barber poll yarn that when knit up gives a tweedy look.
The 4th and final way I spun up the January Forever in Blue Jeans was to strip the fiber length wise as fine as possible.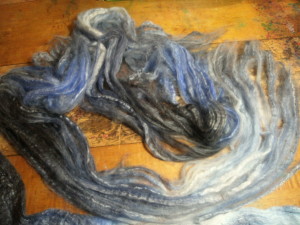 I ended up with 72 strips from the 1 oz of fiber, spun half on one bobbin and the other half on another bobbin then plied together.  The resulting yarn has some areas where the colors match up and others where they barber poll. This is a 2 ply lace of about 22 wpi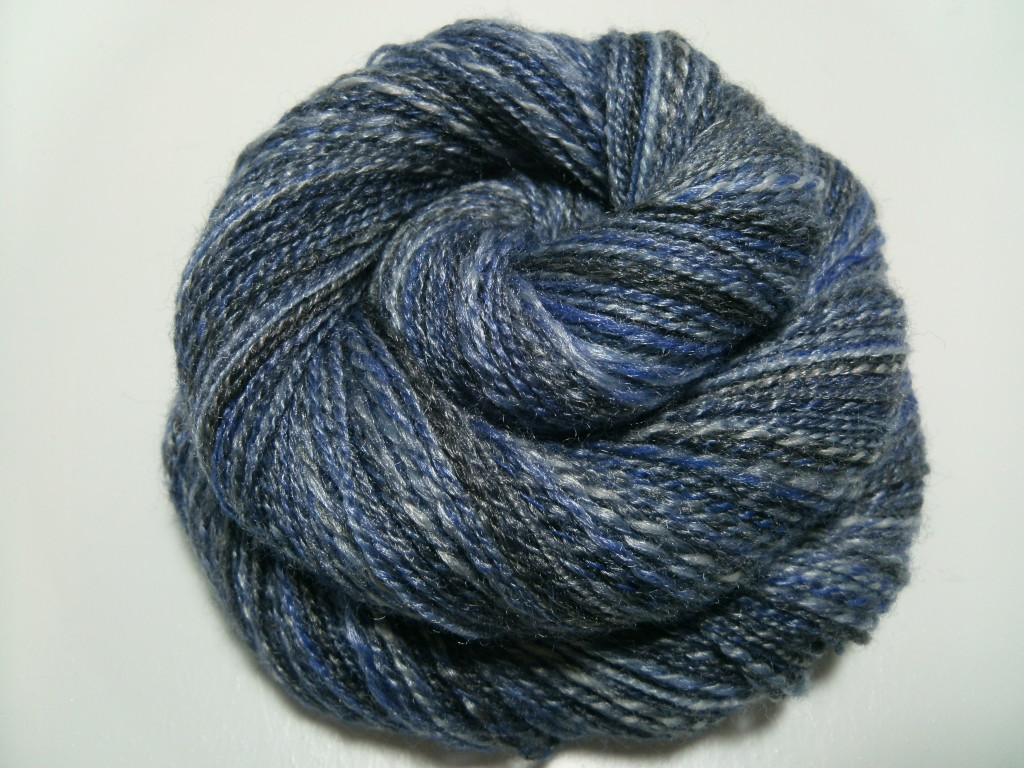 knit up you get a combination of short burst of color, and muted blends.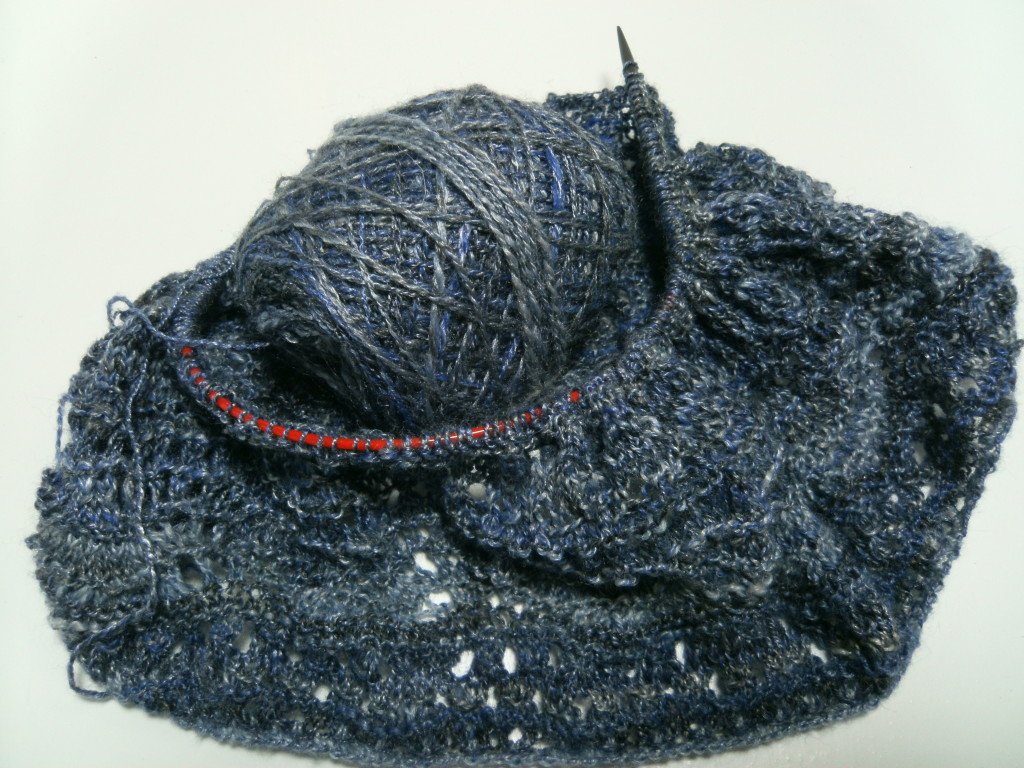 There are as many ways to spin a fiber as there are spinners in the world.  I hope that these four samples you give you some inspiration for spinning your January Bam Huey Fiber.  Please feel free to share other ideas for spinning and pictures too!
The Forever in Blue Jeans colorway will be available to all at New Hue Handspuns  by the end of the week.
Until next time,
Happy spinning,
Cheryl