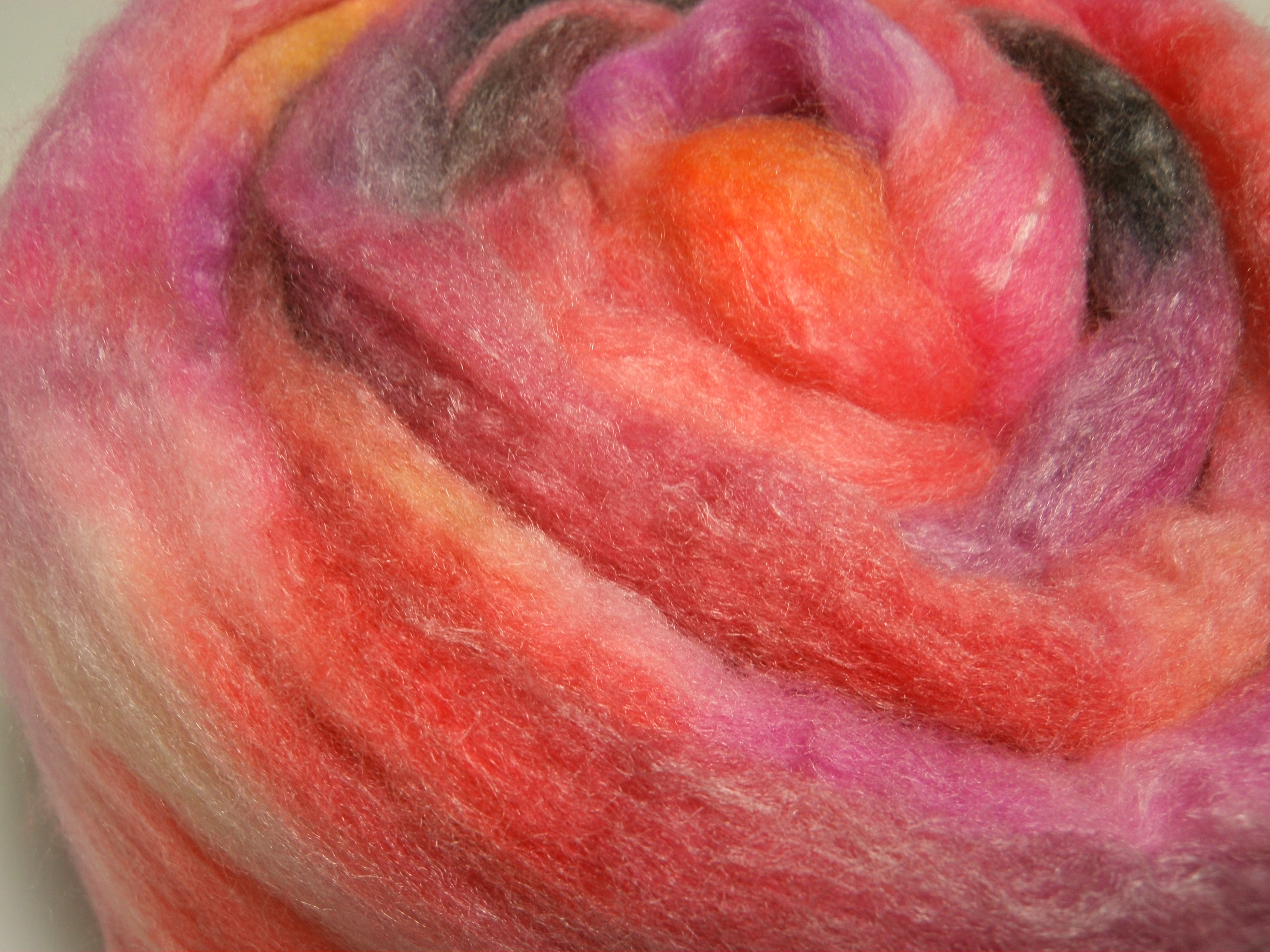 Did Psychedelic 70's blind you?!?!  I have to admit, dear club members, that the July installment of the Bam Huey 2017 Year of Color Fiber Club is a wild one.  When I took on the theme for the July Spinning box  of Psychedelic 70's I went all out, no holding back. We are talking bright pinks and oranges all the way….with just a little black to bring things together.  Don't worry if these colors scare you, I'll be showing you some ways to tame this wild one….well just a little bit because, really, the 70's  could not be tamed….I know, I lived through them!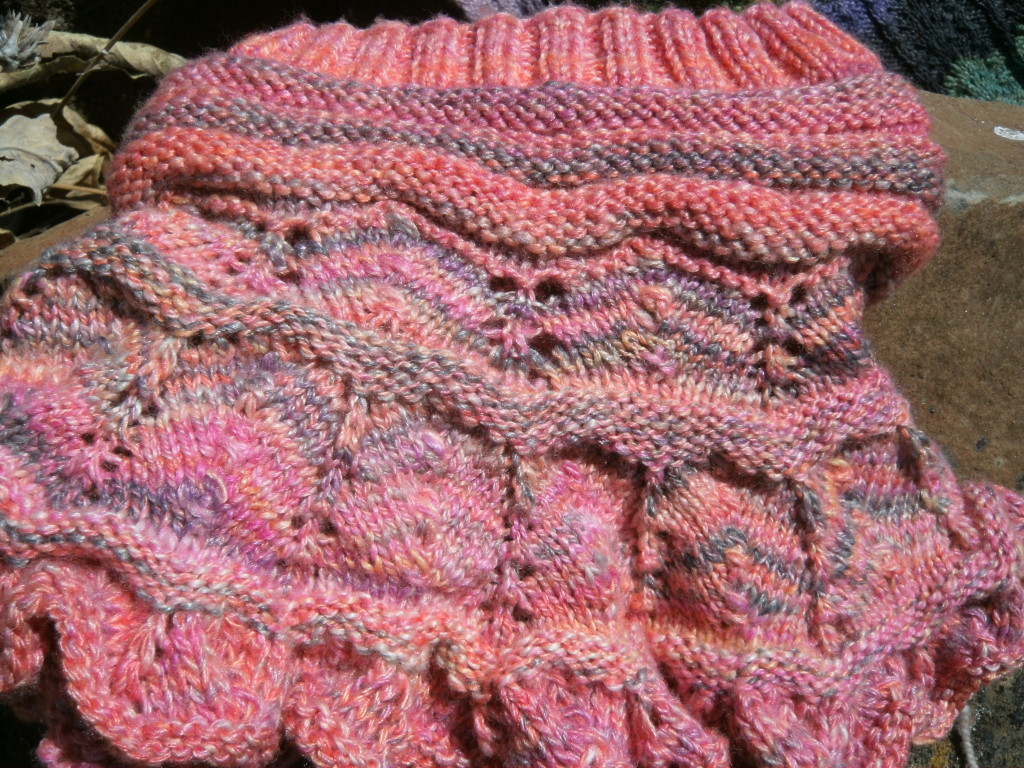 Ok, I admit, Psychedelic 70's didn't mellow out that much…lol. I knit up this month's yarn samples into my Baa Baa Huey Handspun Cowl  (one of my free patterns on Rav.)
Starting off at the top, I spun up a 2 ply sport weight.  I split the fiber in half length wise spinning each half  then plying together.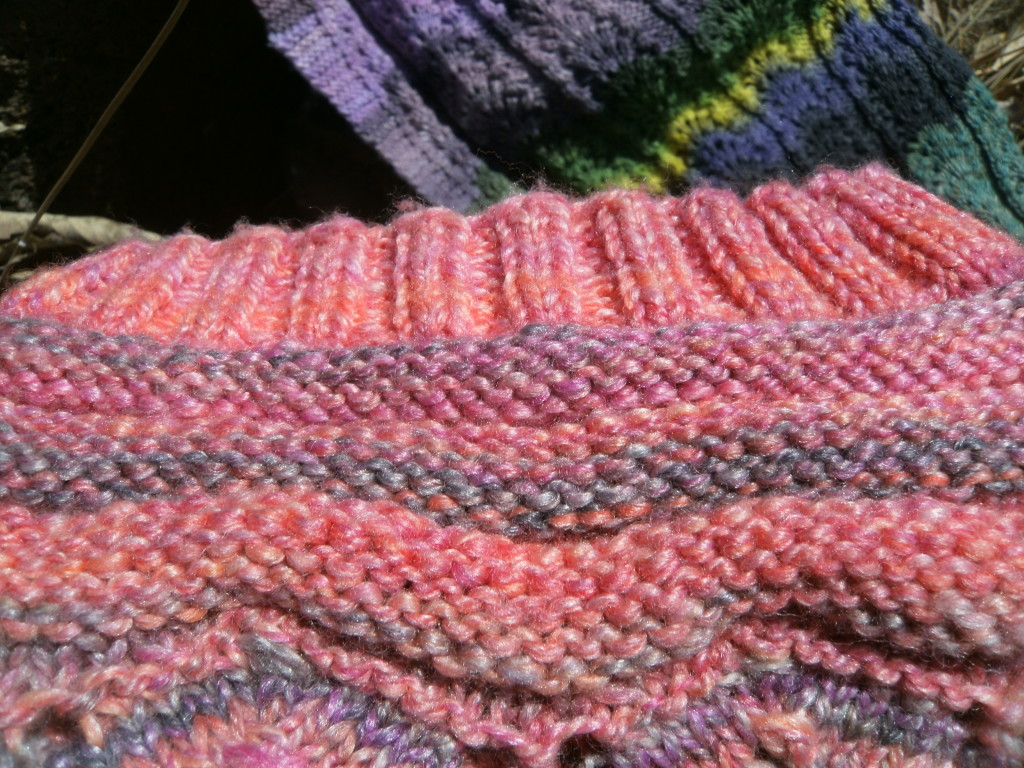 The colors pretty much line up when spun, with just a bit of barber polling. When knit, the black frames the colors nicely.
Next up is another 2 ply, but this time I split it 36 times, spun it up randomly on 2 bobbins, then plied together.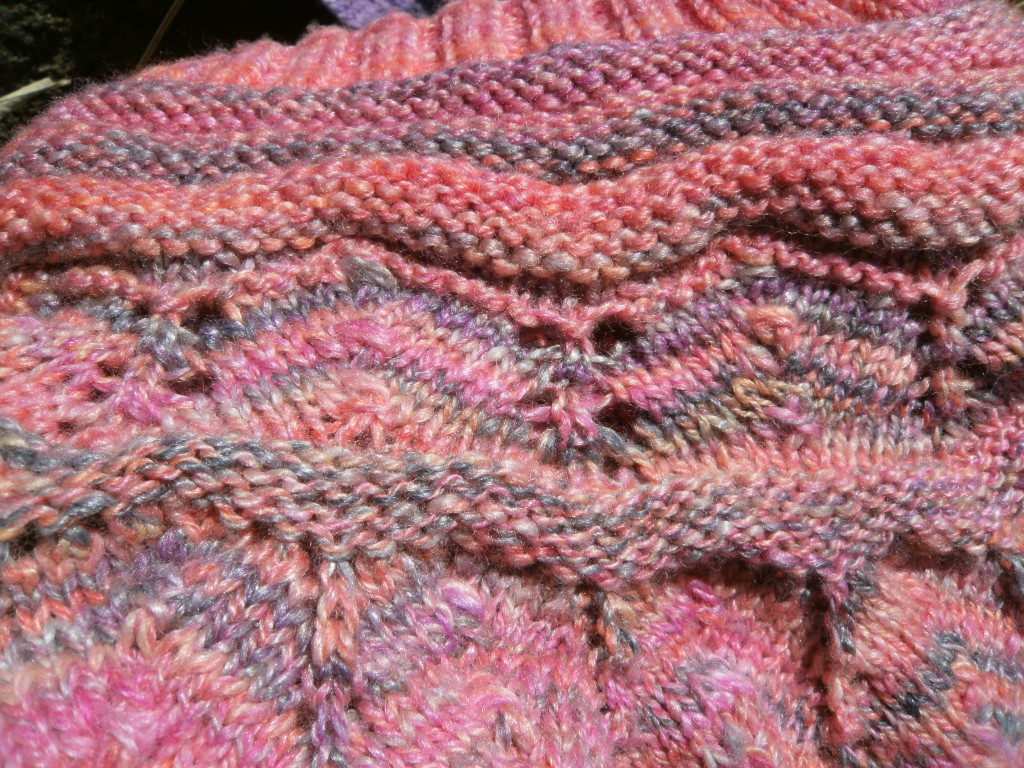 As you can see, the colors pop up randomly in short spurts, giving a lively action to this cowl.  Fortunately the black shows up to once again give some framing and a little bit of order to this wild child.
Last, but not least, is the Psychedelic 70's cable spun in a fingering weight.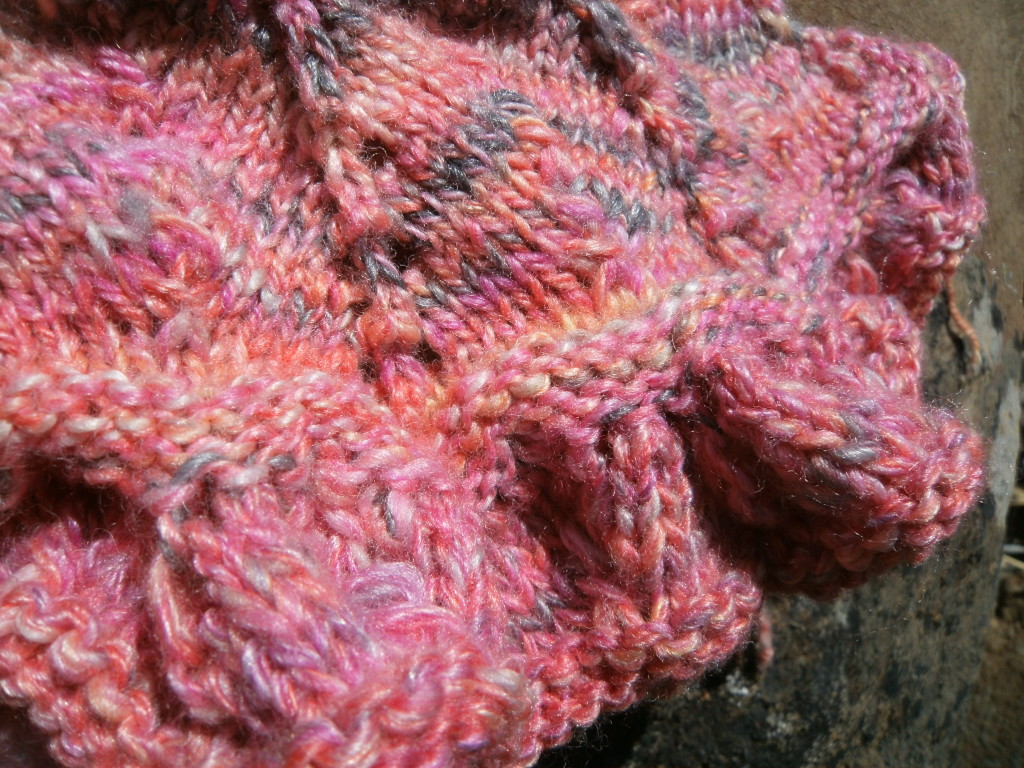 I was a bit surprised on how much the black streaks diluted in this 4 ply cable.  It is a nice round yarn with plenty of cushy factor, and the most blended example of the Psychedelic 70's colorway.  The pinks took over on this spin, but there are still plenty of shots of orange peeking through.
I haven't forgotten the July addition of the Psychedelic 70's to the Year Long Scarf, but did save it for last…..for good reason… This yarn sample was spun from the first dye batch, while it is wonderful in it's own right, it was a bit darker than I wanted this colorway to be.  It is amazing how much difference one little streak of black dye can make.  Here is the Navajo 3ply chain lace yarn taking it's place on the Year Long Scarf.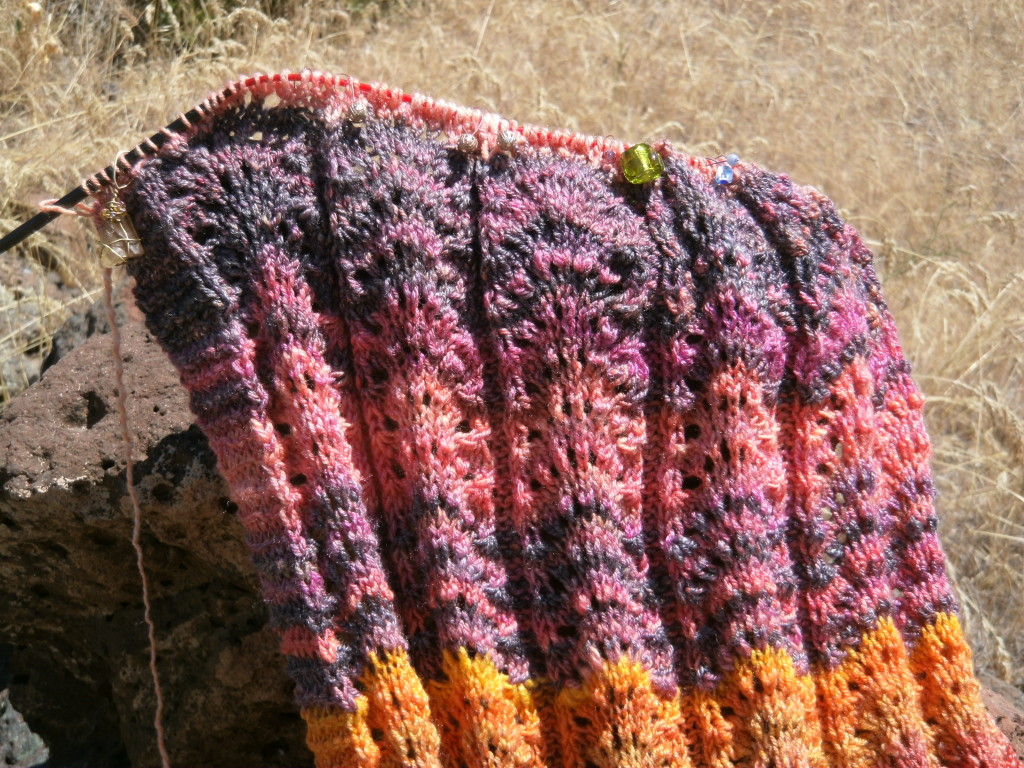 If you focus in on this section of the scarf you will get a better idea of the current colorway.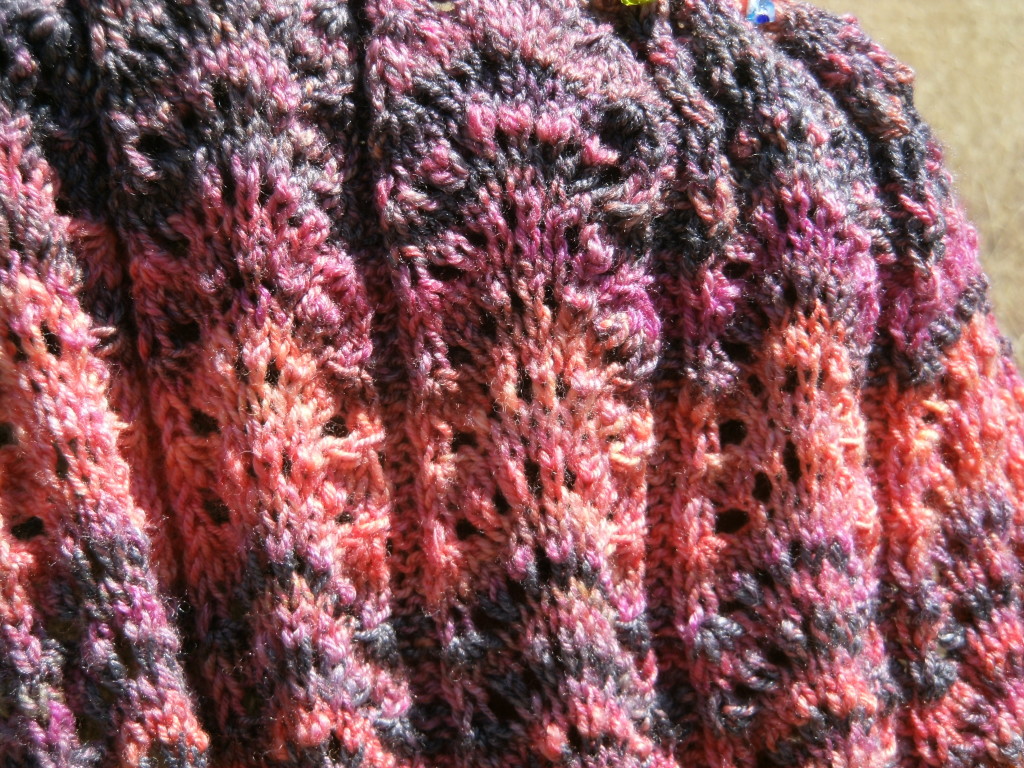 I do have a video that is uploading to You Tube and will add the link later…some nice close ups of the knitting, but sad to say I'm pretty bland.  The video was done just a few hours before having to leave our new home and go back to Portland to work, which always depresses me.  Someday I won't have to go back to P-town, but for now I think I will make it a point to do all videos much earlier in our visit home when I am bubbling with excitement!
Until Next Time,
Happy Spinning,
Cheryl