Time is flying faster than ever, or at least it seems that way.  I remember as a kid time passing so slowly, a week was forever and a year an eternity.  Now a year passes in a blink of an eye, and a day lasts no longer than the flutter of a humming bird's wing.   I don't seem able to slow time down, so I  best be picking  up my  pace!  I can hardly believe I have been home for 2 weeks and I have not found the time to blog!  It has been on the list of things to do each day,  but somehow the day runs out before I get to blogging.  Thanks to those of you who have been rattling my cage, and checking up on me, you've inspired me to make time for blogging  and move it to the top of my To Do List!  Now I have a lot of excuses of why I didn't have time to blog, some of them are plans that are still under wraps, and some that I can share with you.  For now, let's play catch-up!
We left off with my last days out Llama farm sitting, and the Big Table of work I brought along with me.  The Good News is that the table is now cleared off!!!!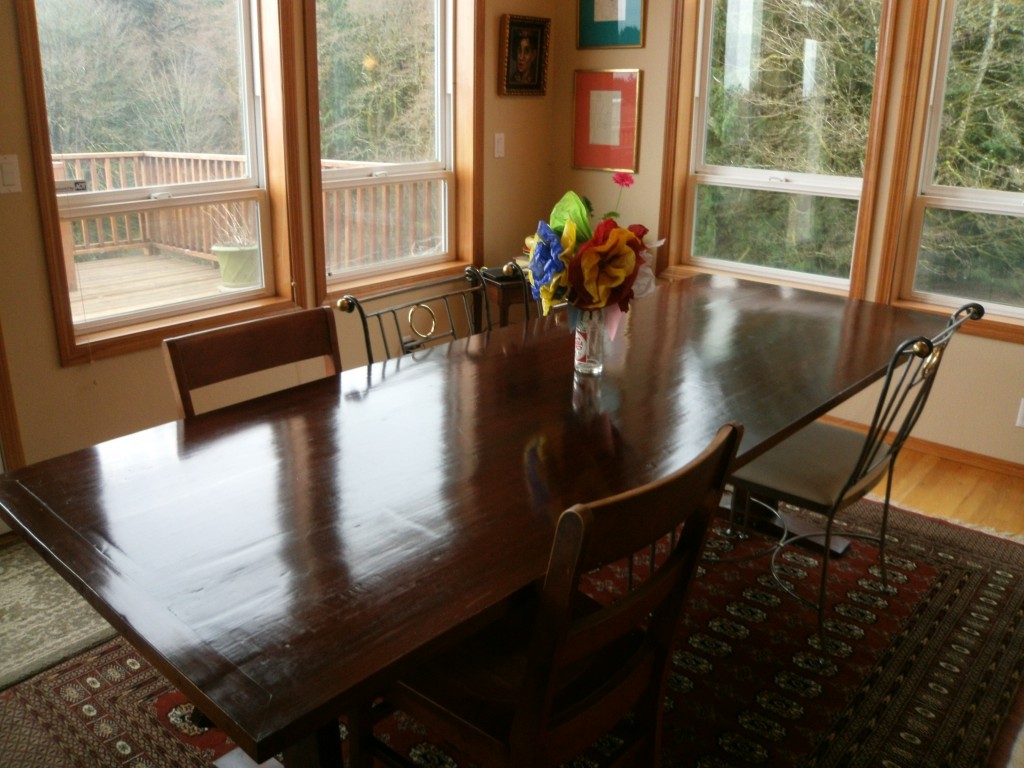 I made a lot of progress on my projects and even finished a few 🙂  Our part of the taxes are done and turned over to the accountant to deal with.  I finished all the adding, subtracting and figuring  before returning home, but once I was home it was several days of digging trying to find some missing papers.  We kept with our usual time frame of finishing in the nick of time…. as in plug in the last numbers and race to make our appointment in time….lol  some things never change.
I did finish the Water Lilies and Hillflowers  Scarf, and blocked it first thing when I got home.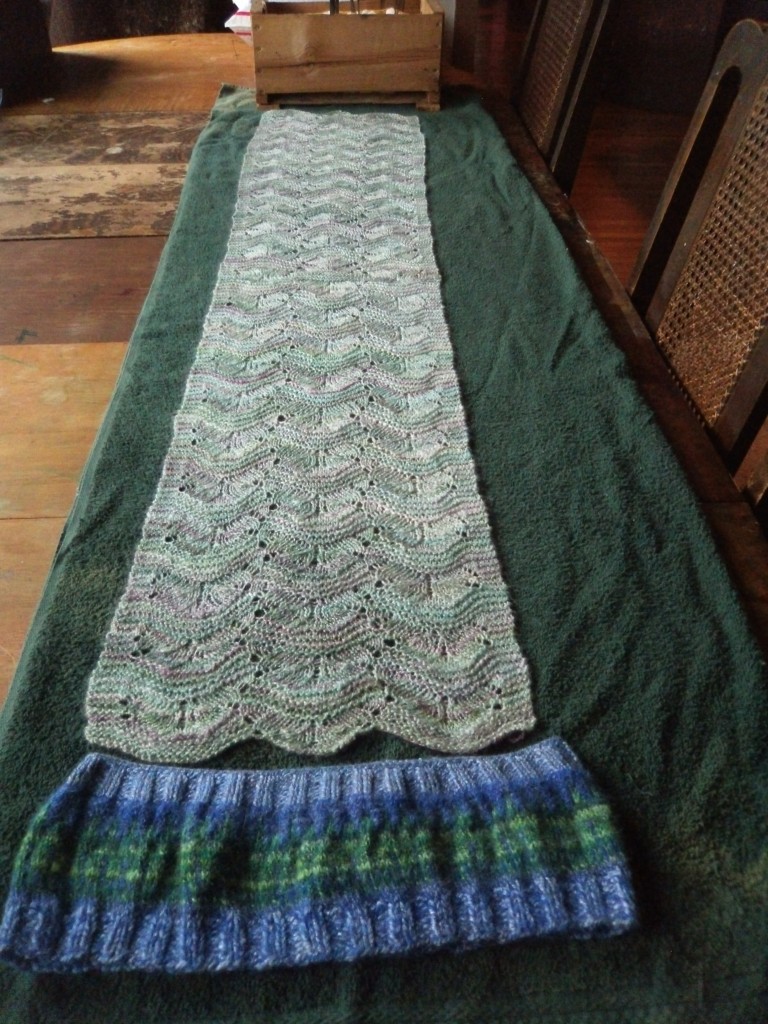 I love Anne Hanson's Hillflowers because it shows off multi color handspun yarns well. Here's my favorite shots.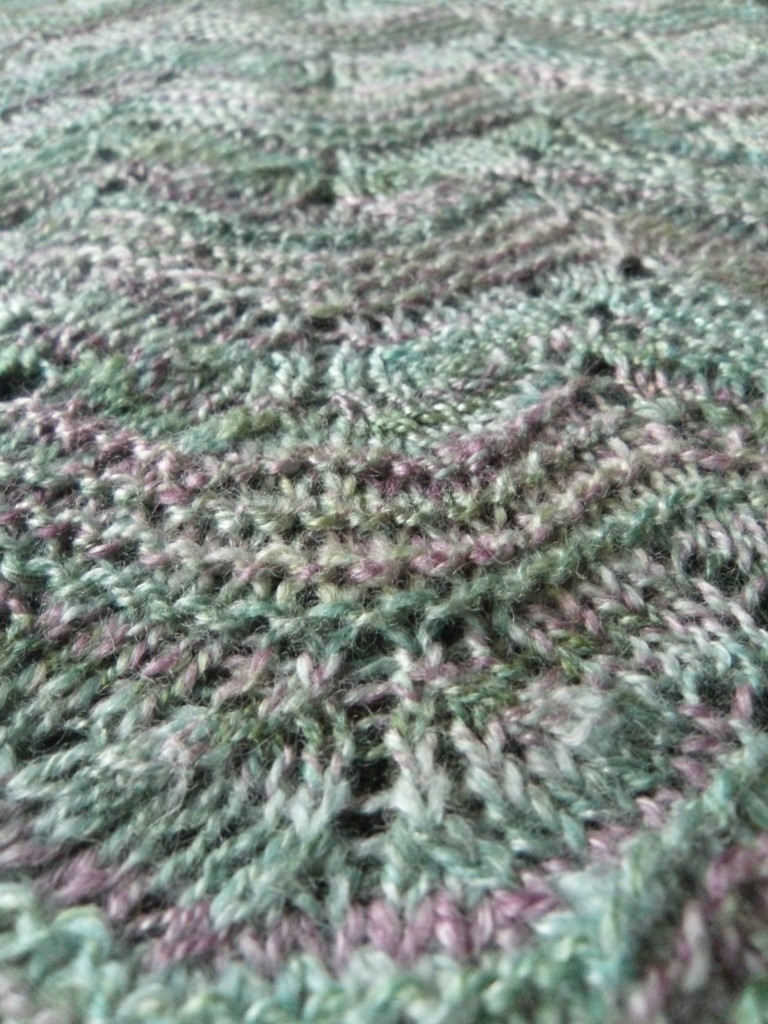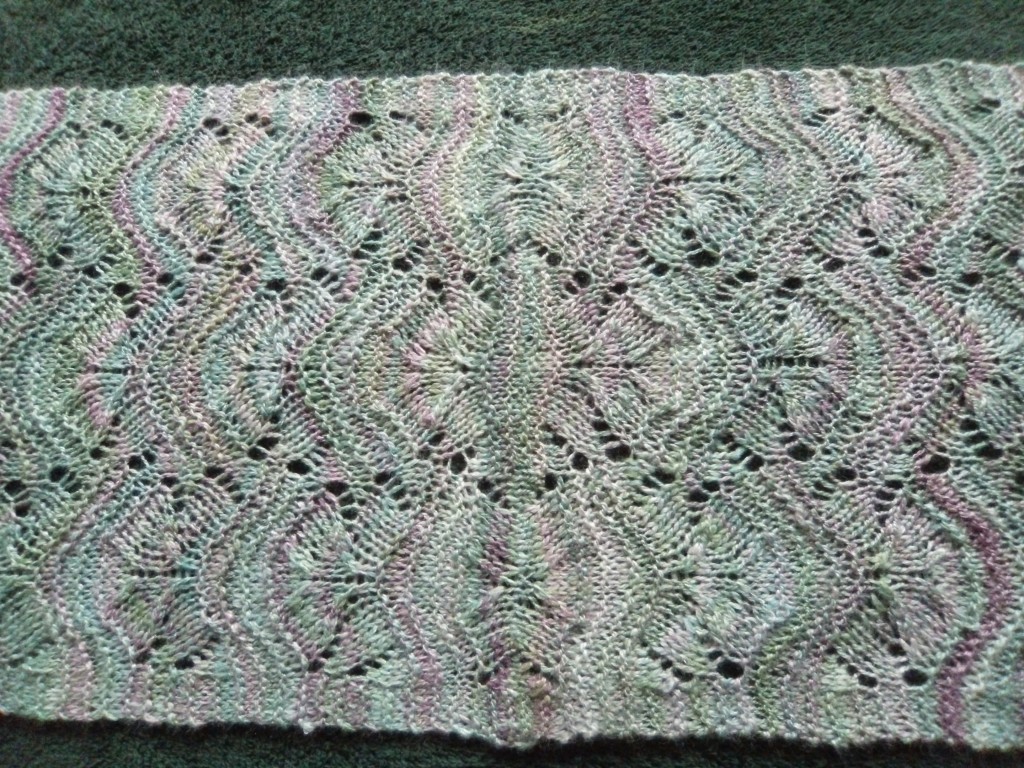 I have been winding mini skeins when I have a spare minute and knitting on my  WIP shawl.  Unfortunately the spinning and knitting  that have been taking up most of my time I can not share with you quite yet!  What I can say is that I am working on a new yarn line and it involves 2 types of yarn. I will be  having a special to launch the new yarn, but it is a few weeks away.  I also have built 2 new displays for my fiber booth at Columbia Gorge Fiber Festival that is just 3 weeks away!  Once again time is flying by me at warp speed.  I promise to keep up with time a little better now.  Next time I may be able to share a few hints about the new handspun yarn, but for now I need to shift into high gear and get back to spinning!
Until next time, Happy Spinning and Knitting,
Cheryl <^..^>