I'm knitting my first Sweater….or should I say I am sweating out my first sweater!   The sweater is for Mr X.  I don't have his exact measurements, I'm making modifications to the pattern, and my yarn and needles are different than the pattern is written for….lol….I'm not making this easy for myself! The first attempt was ripped  after about 50 rows, it was WAY too big.  I screwed up on the math.  Second attempt is coming along well, but I am concerned that it is still a little too big.  I've decided that if it turns out too big I will give it a little time in a hot dryer and shrink it up a bit:)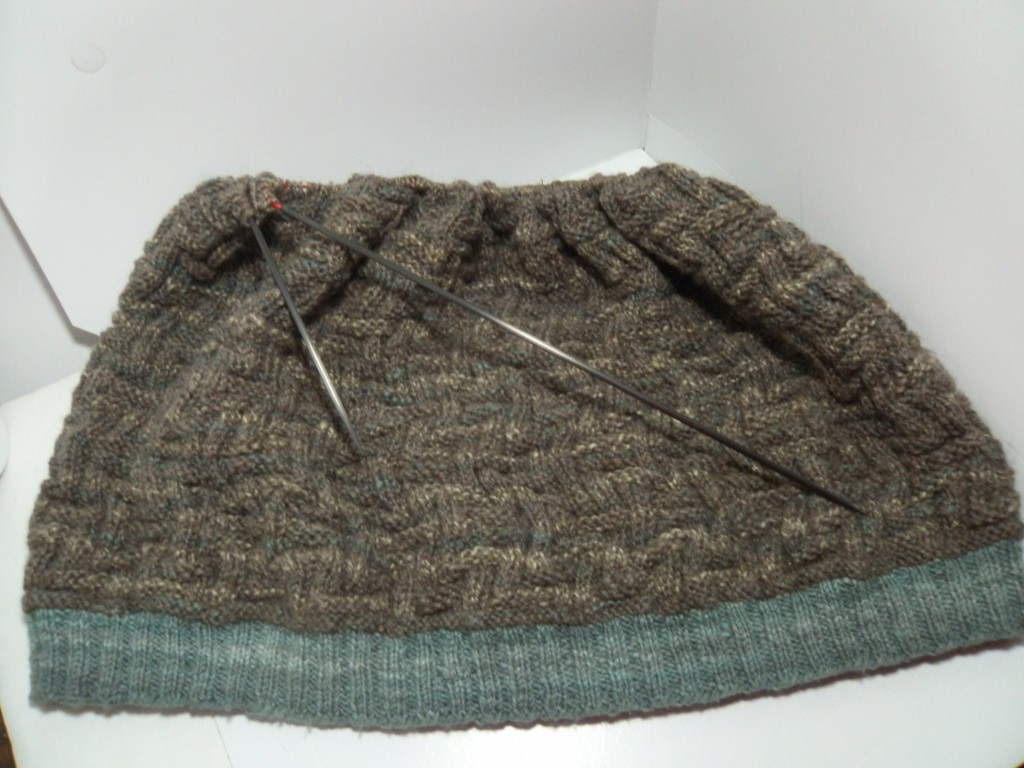 I am really enjoying this pattern, Anne Hanson's Aztec Mazes .  The pattern is written with cables up the sides and intended to have some shaping.  We decided that this maze pattern is purrrrrfect for Mr X but the sweater needed to be a bit more manly so I've dropped the cables and shaping.
I learned a few things while knitting the sweater.  I am a  lever/pit knitter and have always use long dpns for knitting in the round.  I recently had to learn how to use circular needles to test all our carbon fiber needles.  I'm slower with the circulars,  but I did come to appreciate not having to deal with all the points involved with dpns.  I enjoy using  9 inch and 16 inch circulars.  For this sweater I pulled out the 40″ circs….. Uggghhhh! long circulars are NOT for ME! all that moving of stitches over all that cord was driving me batty.  I missed  my 14″ dpns, so I switched back over, but  once again I had to deal with all those points.    It finally dawned on me that I could have the best of both worlds.  A long needle to tuck under my right arm and attached to the other end of the cord a short needle to knit off of.  I plan to make a video of the needle in use very soon…pit knitting with circulars…I'm a happy camper:)
here's a closer picture..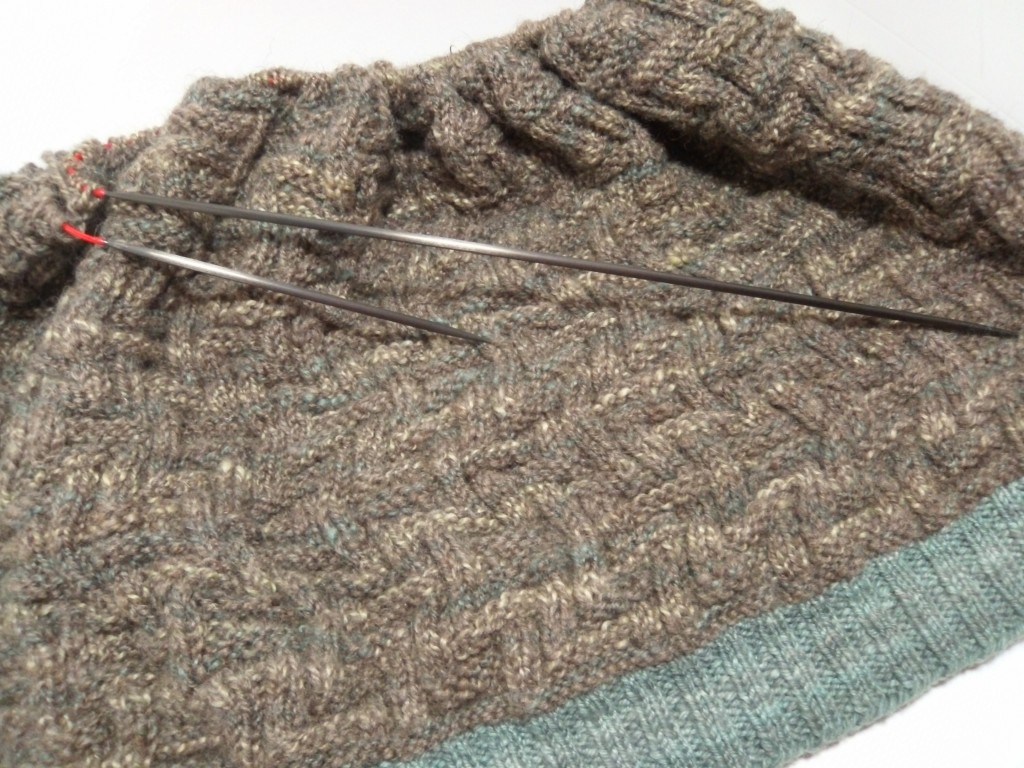 I have a little more testing to do with these needles, but hope to have them listed in the shop soon.
It will have to wait for my next blog post for me to go into more detail of the yarn used for this project because it is getting late and I need to get some sleep and I know that you are all hanging on to find out who is the winner of the Spinzilla spun yarn
this one…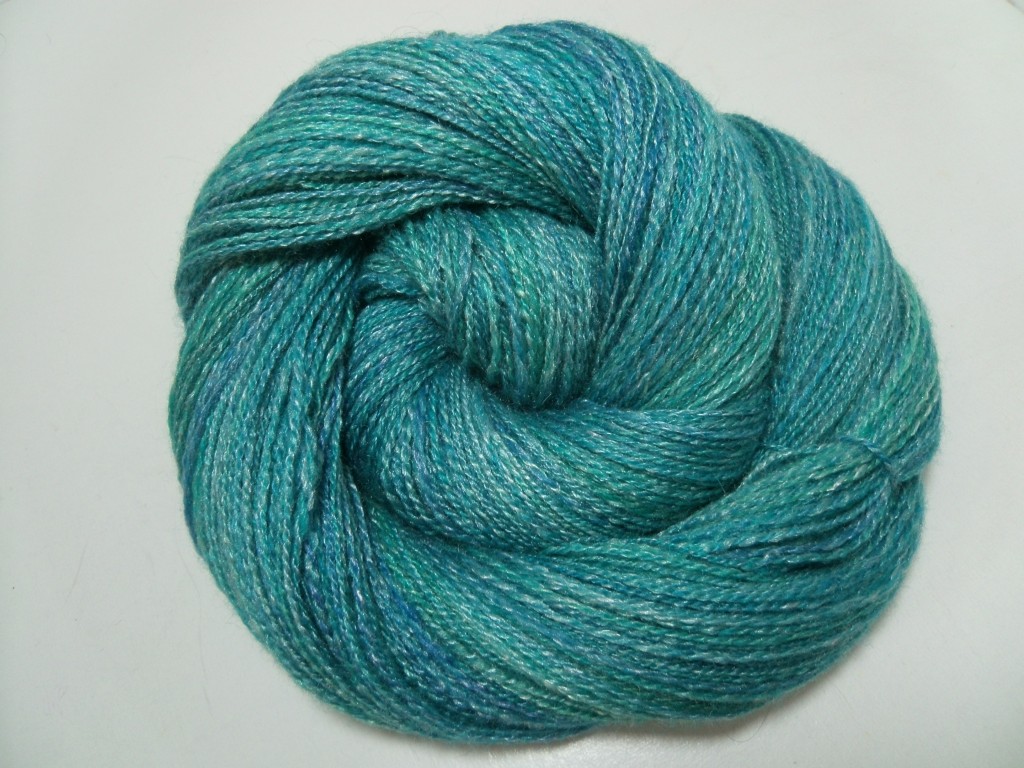 There were 67 entries and I gave each of you a number in the order of entry.  I cranked up the old Random Number Generator and it spit out number 13……  and lucky #13 is Audrey!  If you don't get my email Audrey, please email me your shipping address.
The fun isn't over yet!  I'm hosting a  Yarn-a-Long over on Ravelry  Here in the New Hue Handspuns Creations group.  Rules and prizes will be posted on Saturday 11/2/13 and the Yarn-a-Long will start on 11/11/13.  You will need to join the group to play along and use something produced by New Hue Handspuns or Newhouse Needles.  This includes spinning fiber, handspun yarn, carbon fiber needles, or one of my free patterns on Ravelry.  Be sure to check in on the group on Saturday for all the details.
Until Next Time,
Happy Spinning and Knitting!
Cheryl <^..^>