The release of 1234 Huey has been delayed but should happen soon…..some times life is so much of an adventure that all you can do is put one foot in front of the other.  My life is on one heck of an adventure right now.  Come take a peek if you DARE!!!!!!
We are still healing from the loss of our little fur girl Pooky.  Keeping busy has helped and boy-oh-boy have we been busy!   Lets get the personal stuff out of the way first and then on to the important stuff….FIBER!!!!
We are MOVING!  For many people moving isn't such a big deal, they do it all the time……not me.  Being a 4+ generation farm girl I never moved growing up.  I had a few different dorm rooms and apartments while in college.  I was married within a year of graduating from WWU and we have lived in the same house we bought just after being married in 1986. So for the most part I have lived in 2 houses for my 51 years.  Twenty eight of those years have been in this old house.
I have to admit a just a few months after moving in to our house I wanted to move out.  Not because the house is horrible, but because I am NOT a city girl. Now after 28 years we are moving at last!  The reasons for moving are many, some good and some not so good .  We are taking a positive approach on this new adventure and see it as the 2 year plan that gets us to our final home.  We will be selling our house and  moving in with my Mother-in-law.  She is 88 and having a total knee replacement next week.  Our bakery business has still not recovered from the continuing  economic dump of 2008.  It doesn't take a rocket scientist to figure out the  best move for everyone is for us to sell our house take over the basement apartment at mom-in-law's for the next year or two.
The challenge is to take our 50+ years of collected junk from a 2500 square foot house plus 2 car garage to 550 square feet, plus a storage/dye room of about 100 square feet.   Can you say DUMP TRIP?????  We have put many things out on the curb and they vanish within minutes.  If I had known that the dead air conditioner would be gone in 4 minutes I would not have left it in the attic and tripped over it for 5 years!!!  Who knew…lol…. even tho it is funny to see how fast things are picked up it reminds me how bad the economy still is that so many people are desperate enough for cash to troll the neighborhoods for scrap metal.  We have put out large piles of scrap metal 5 times and every time it has been a different person picking it up.   I'm glad and a bit sad all at the same time….
We have actually enjoyed getting rid of the junk.  Most of it really is just junk, some memories, but do I really need things I haven't seen for over 15 years?!?!?!  Not only do we have to empty out our house but we have to move Brother-in-law out of the apt. to an upstairs bedroom.  He has lived in the basement for about 35 years and the apt has pretty much become a dumping ground for his junk…..as in there are just a couple of rabbit trails through the room.  It is going to take a lot of work to clean out but it will be worth it, and in the long run B-I-L gets a cleaned out usable  apt once we move out which makes him happy too!
We will still be making needles, dyeing fiber and spinning yarn through all this adventure, but I may not be able to keep up communication as much as I should.  Please bear with me and just holler if you need something, we may be quiet, but we are here working away!
Now on to the important stuff……..Fiber updates and Pictures!  First up are pictures from my last trunk show at Yarntastic! Featuring my 2 new handspun lines 1234 Huey  and Cam Huey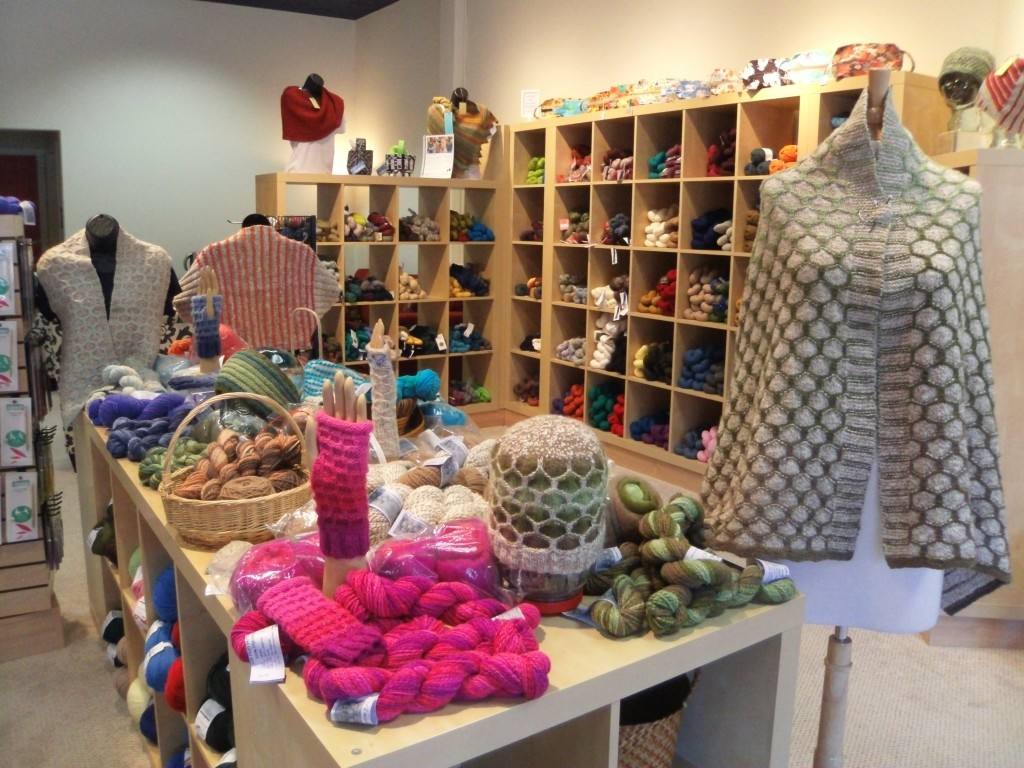 I hand paint the 100% Merino fiber for the 1234 Huey Handspun yarn in a 3 color gradient style.  These new yarns will soon be available at New Hue Handspuns  along with the 75% Merino 25% Baby Camel Down, rustic spun Cam Huey.
I finally have a sample knit from each of the 10 colorways, and all of them done from my own patterns created specifically to show off gradient handspun yarn.  The Shawl and Scarf pattern is available free on Ravelry,  New Hue Handspuns 1234 and Cam Huey Gradient Shawl  here are a few close ups.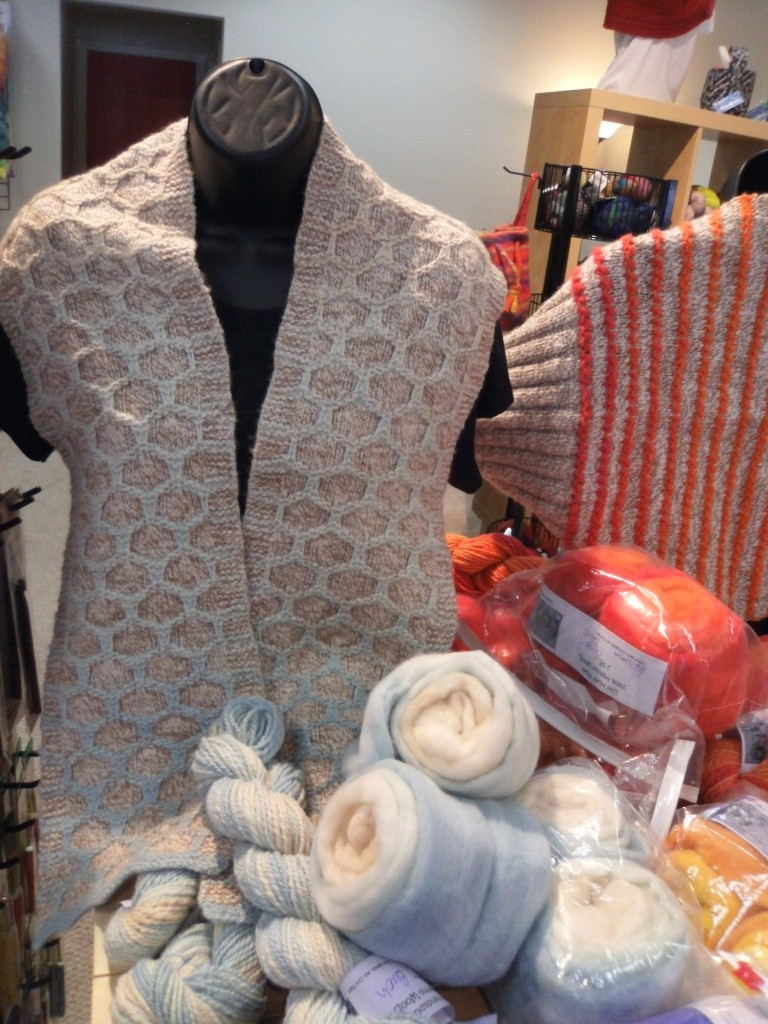 The other new free pattern I have up on Ravelry is the New Hue Handspun 1234 Mitts.  Nothing very difficult or exciting about this pattern, just a nice simple plain pair of mitts designed to show off 90-100 yards  of handspun yarn.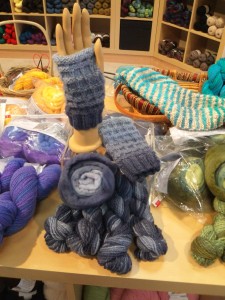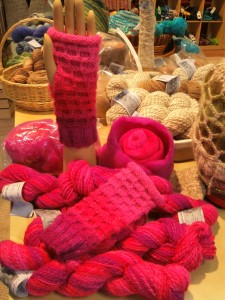 There are a few more patterns yet to be written up, here is the Shrug I have been working on.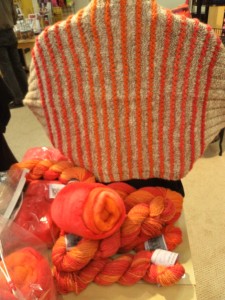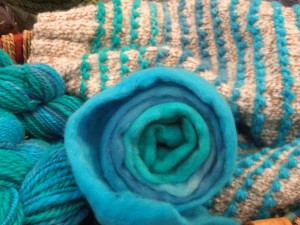 Here is a cute little headband/ear warmer I came up with using some short rows to show off the gradient.  I also have one done in the Desert colorway, but no picture yet.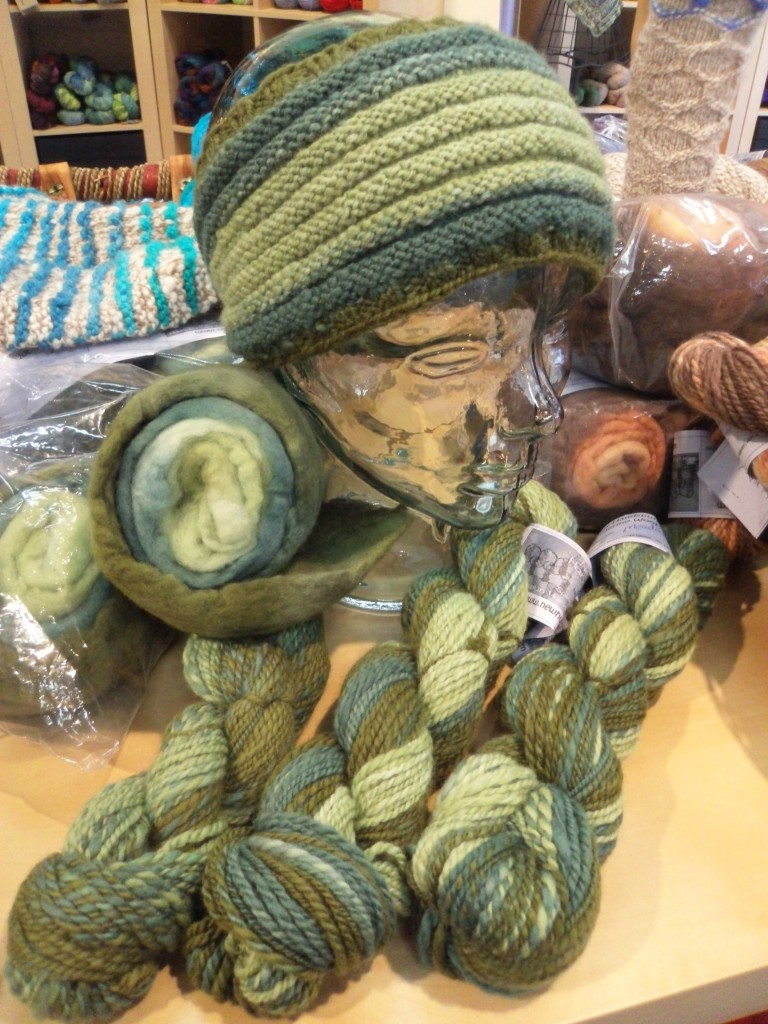 Last but not least is the Hat or Neckwarmer pattern that needs to be written up.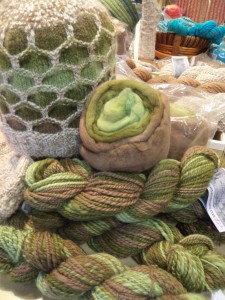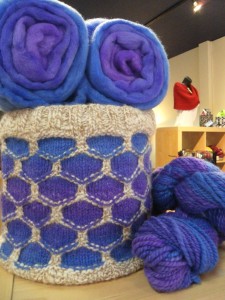 oh what the hay…one more picture:)  this one is 1234 Huey in the Prairie colorway .  I have  paired  it with the super baby soft 100% Baby Camel Down .  Here you can see that it is balled up and ready to knit.  It now is  a scarf…….OH MY!   I can't wait until winter to wrap this ultra soft and warm scarf around my neck!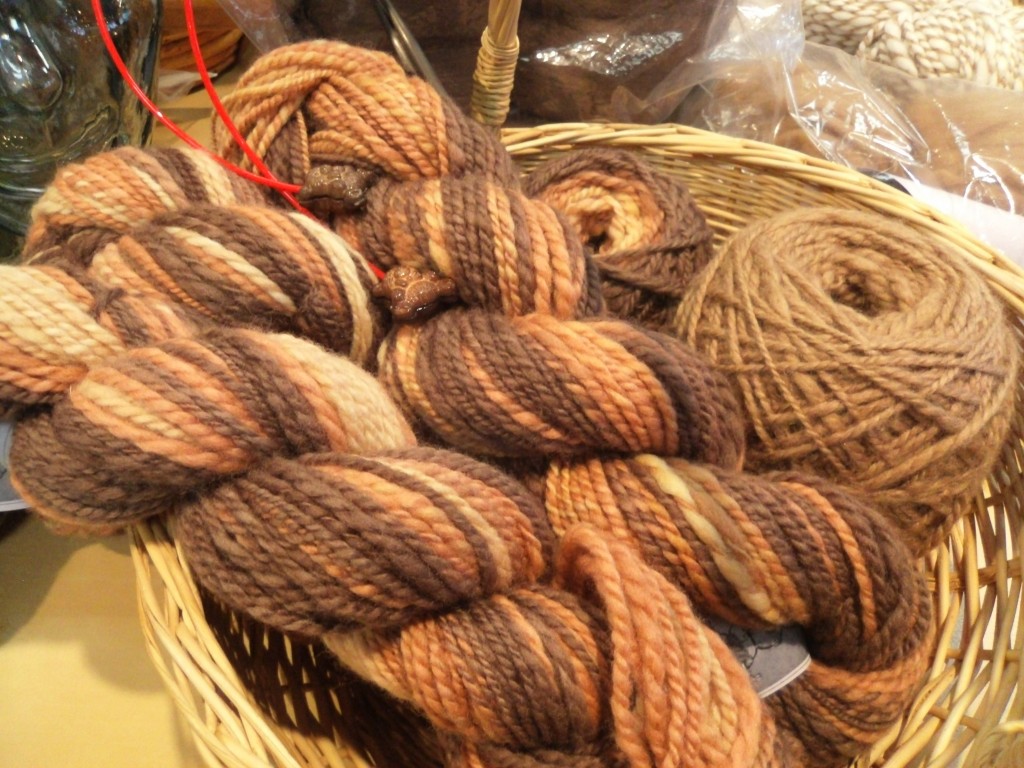 So as you can see, although I have been quiet, I also have been busy.  There are a few secret projects I've been working on too that won't be seen until spring, but the work must be done now.  I have been playing with some new colorways in between cleaning out my house.  The new fall leaves colorway is making me VERY happy:)
Before I know it, it will be September 26th and time to pack up for Oregon Flock and Fiber Festival.  My wedding anniversary falls on the same weekend.  Last year my truck was hit on the freeway retuning from setting up for the show and I spent my anniversary in the emergency room…..this year I hope for better….lol.  As soon as OFFF is over it is time to start stocking up for SPINZILLA…….I have to defend my title of Individual Grand Champion.  Last year I competed against 600 US and Canadian spinners.  This year it is open world wide and there are almost 1,000 spinners signed up so far!!! I'm going to have to keep my nose to the grindstone to come out any where near the top.  Last year I spun 16,852 yards during the week, and I had to take a few days off due to visitors and burning my hand.  This year, NO visitors and No dyeing during SPINZILLA.  My goal is to break the 20,000 yard mark……we shall see:)
Next time around I hope to have some new Bam Huey colorway pictures for you,  right now I need to go restock the shop with fiber, and get to work on listing the 1234 Huey Handspun!
Happy Spinning and Knitting,
Cheryl <^..^>