It has been a loooooooong week! The New Hue Handspuns web store was down for week.  We were forced to do and pay for an upgrade…….it didn't go well, and support that we paid for was very poor….. 6 days to wait for a reply to a help ticket that was sent under their URGENT category?!?!?!?!  When the long awaited reply came with a "pay us more money and we will fix the download" I knew we made a mistake in choosing our shopping cart service.  Will kept working on it and eventually got the new download to work with out their help.  I do like how the shopping cart works, but with such poor customer service you can bet that we will be shopping for a new service that believes in customer service the next time this situation arises.
Enough of my ranting, all is well now and to celebrate the web store being back up and running I am having a sale!  I rarely if ever have a sale on handspun yarn, but for the next few days with the coupon code    BackUp!    you will receive a 20% discount on all handspun yarn in stock at New Hue Handspuns The discount is  for handspun yarn in stock only, Needles, custom orders and spinning fiber are NOT included in this discount. Discount ends Monday night (midnight Pacific time) January 27th.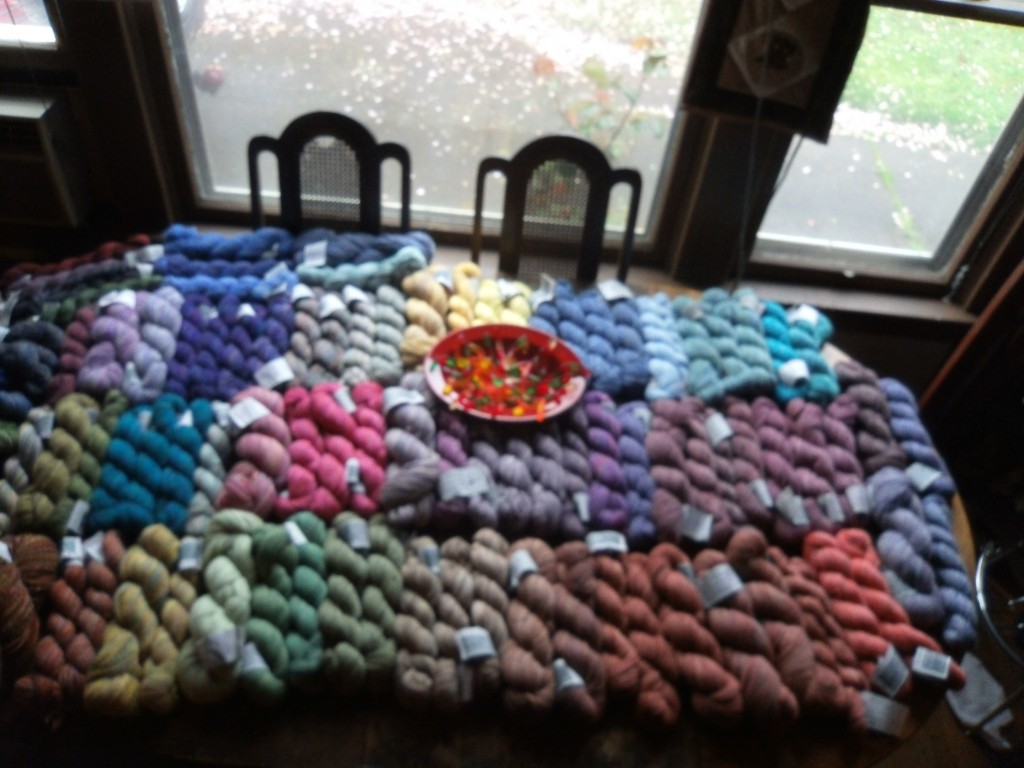 Thought I needed to leave you with a little yarn eye candy.  I'm a little short on current yarny pictures, but here is one from the inventory I did on my 50th birthday earlier this year.  The bowl of 50 birthday Gummy Worms is long gone but there is plenty of yarn in the shop to choose from.
Coming Soon…..
Mr X's sweater will make an appearance next posting, still a few  details to finish.   Fiber dyeing has been going on, so look for some fiber updates in the shop.  Details about where I will be for the Rose City Yarn Crawl.
Until next time,
Happy Spinning and Knitting,
Cheryl <^..^>