I need a studio, well it's more like a shed, but I will turn it into my studio.  As many of you know we are in the middle of a year long move into our New House.  One of the last things I have to have before we can complete the move is a studio for New Hue Handspuns. The house is simply too small to run my business in.  I've found a great solution.  It is a Hickory Shed.  There is dealer in Baker City that will deliver and set up a 10 x 20 pre-built shed with 2 windows, and door with window for just under $5,000.  The snow is falling and it will be spring before I can have the shed delivered.  Now I need to spend the next few months earning  $5,000.  The Hickory Shed company does have a nice rent to own program, but our life plan is to stay out of debt.  We have been debt free for 2 years and I would like to keep it that way!
Many discussions have surfaced regarding fair pay for artists. Most of these discussions end with "artists need to charge for their time and talent to make a living wage" and "but no one will pay that much for it".  Today I have decided to take on the challenge of charging a fair price for my work.  I have been working on a knit shawl design for about 5 months.  I've written the pattern, test knit it, and will publish it on Ravelry soon.  This shawl is the result of that 5 months of work.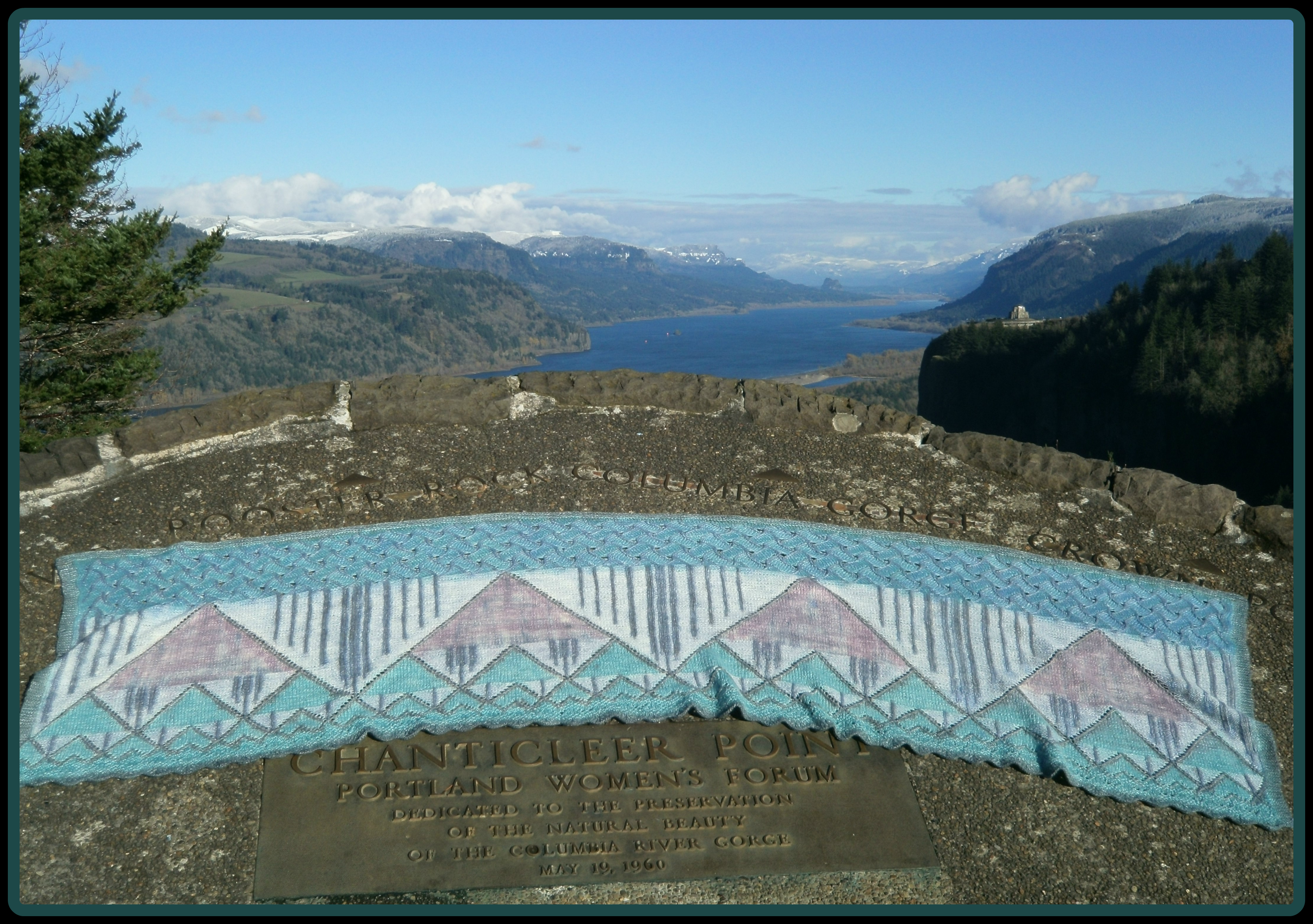 What better place to have a photo shoot for the Going to the Gorge than in the gorge!  We manage to sneak in a trip to The Gorge just before a real big snow/ice storm hits.  It was cold and windy so we had to be quick.  Here are a few more pictures.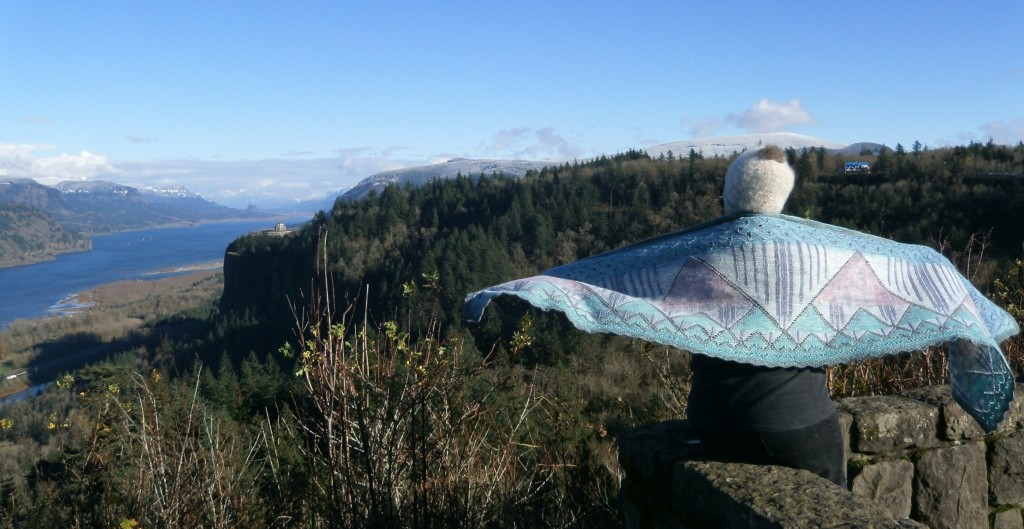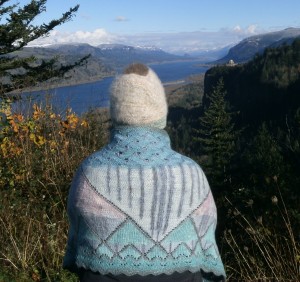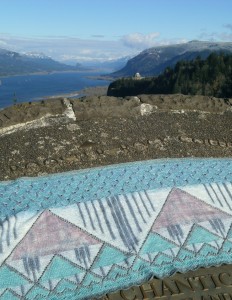 The shawl has over 225 hours of work in to it.  It started out as ecru Bam Huey fiber that I spun for Spinzilla 2016.  About 16 hours/1,600 yard of 2 ply yarn from the Spinzilla yarn went into this project.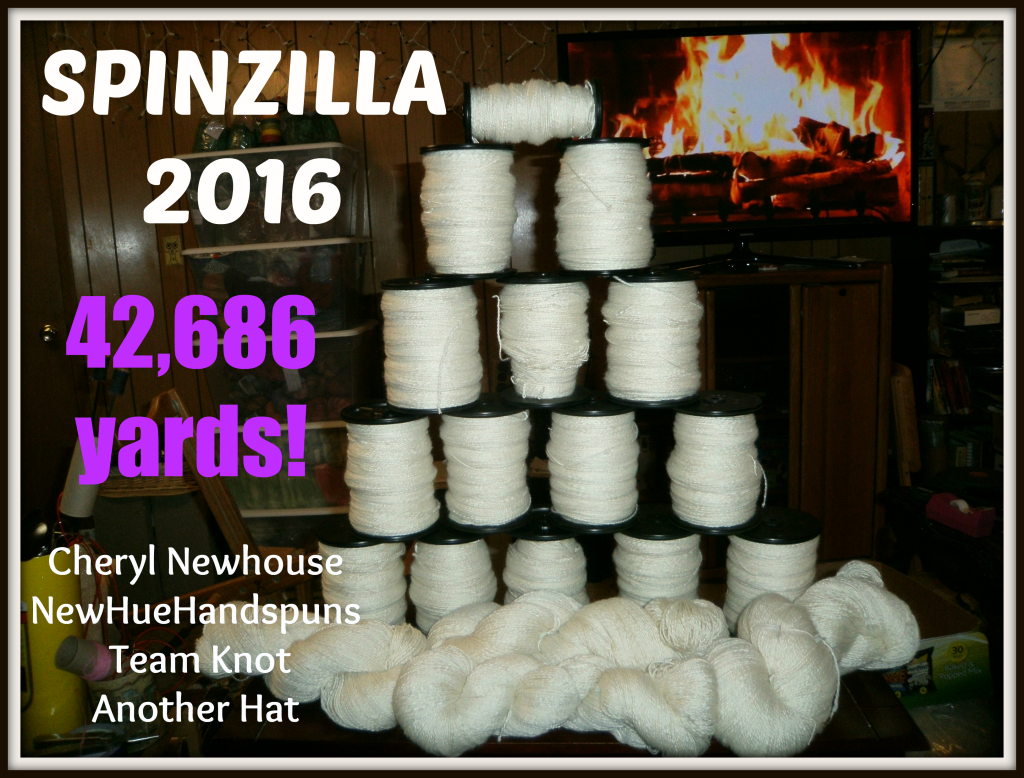 Designing and knitting the pattern took the majority of time.  It is impossible to count the design hours, because I'm thinking and working on the pattern all day long while I do other work along with the actual hours of writing the pattern.  Knitting time was well over 100 hours.  200 rows of any where from 400 to 588 stitches per row.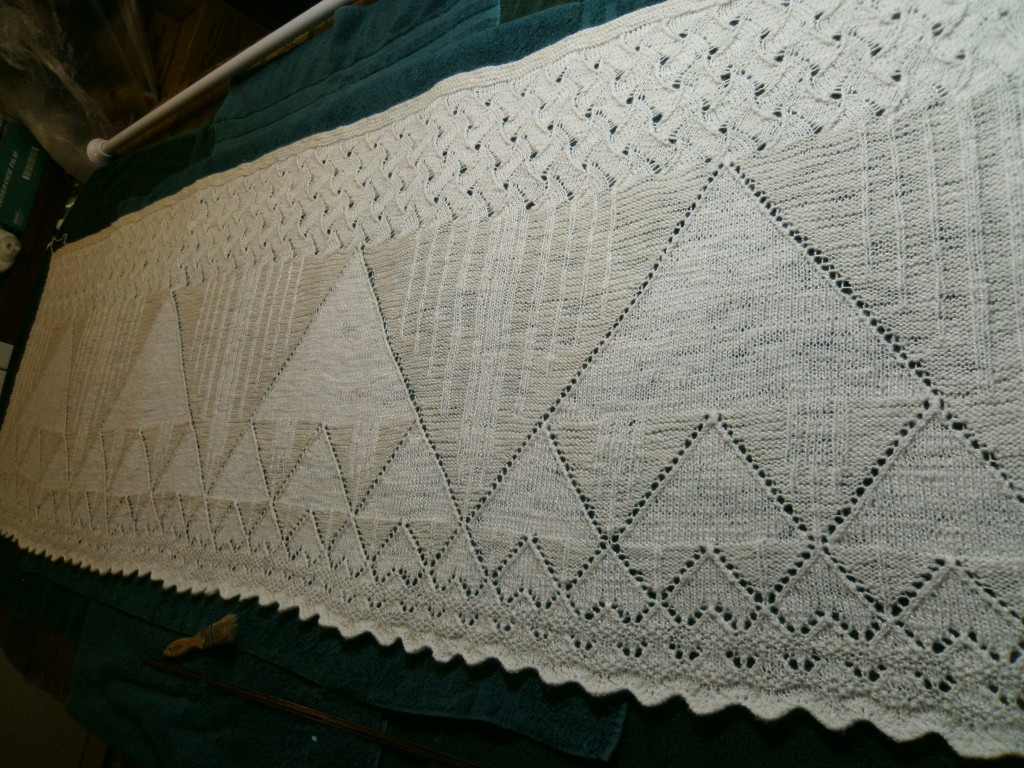 Hand painting the shawl was the final step…….12 hours of bending over this table and painting…….my back still hasn't forgiven me for this…lol.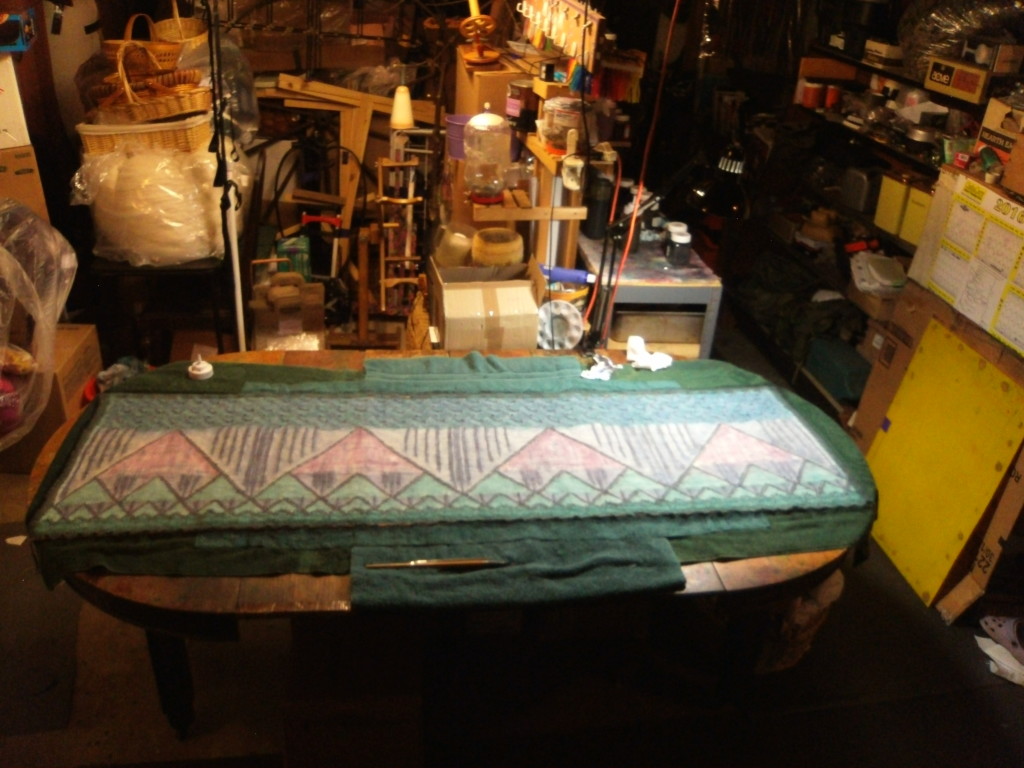 I used this picture to show the cramped and crowded basement space I'm working in…………now you know why I need a studio!!!!
Here is my challenge to you……. Help me get this shawl sold for a living wage, which in turn will help me purchase a studio!  Now I would be the first to say, "Sorry, I would love to help, but there is no way I can afford that,"  and that is true for so many of us.  I'm just asking that you pass the word along, you never know who knows someone, who knows someone,  who would love to own a one of a kind work of art, and have the means to support and invest in an artist's lively hood.
The price………$4,288  where to see the details and purchase here at New Hue Handspuns
Now it is time for me to focus on the Bam Huey 2017 Year of Color Fiber club.  12 months of new colorways….check out the details HERE at New Hue Handspuns
Until next time,
Happy Spinning and Yarn-ing,
Cheryl